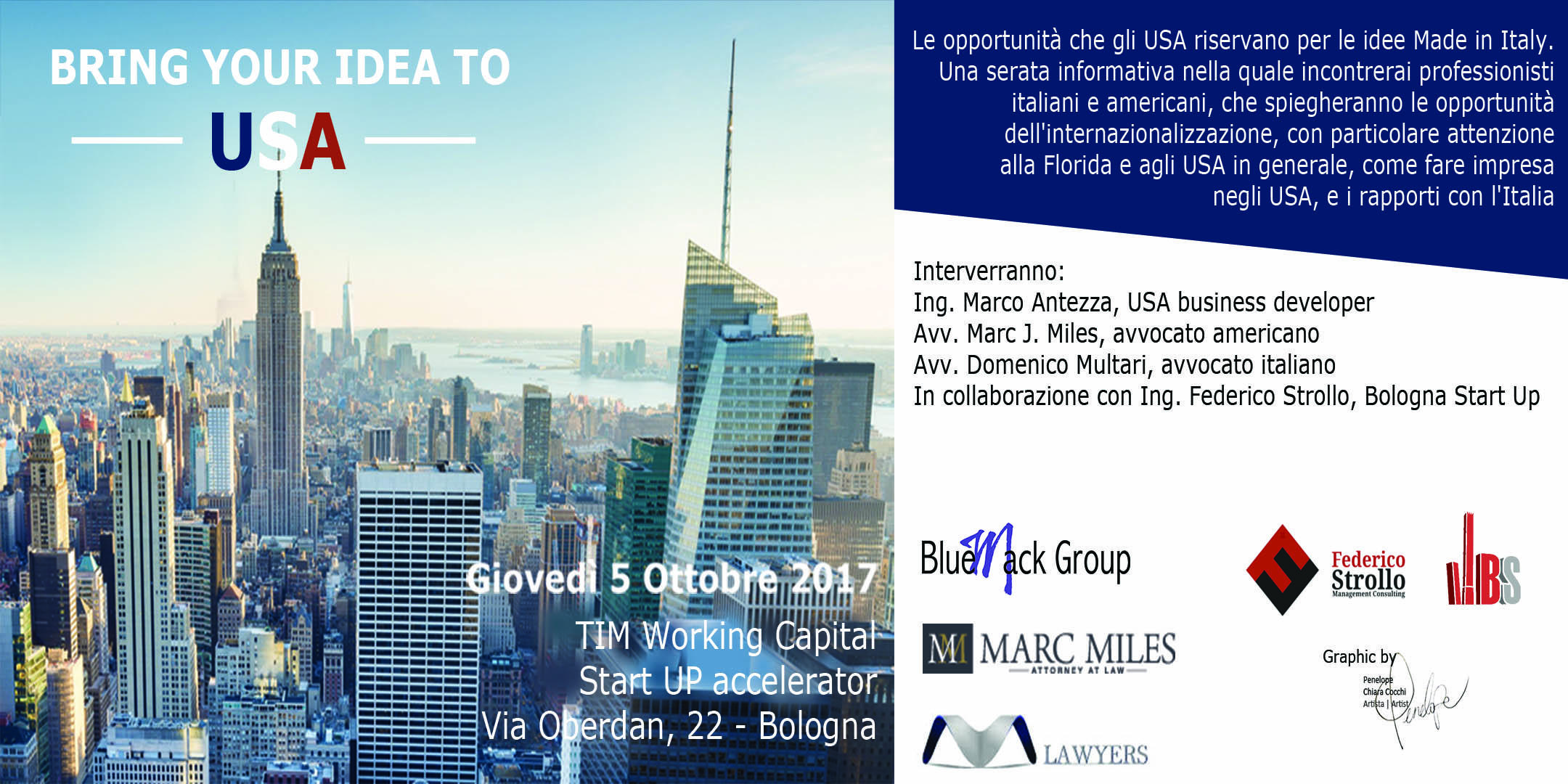 Bring your idea to USA
giovedì 5 Ottobre 2017, ore 18:00
@TIMWCAP via Oberdan, 22
Quali opportunità riservano gli USA per le idee Made in Italy?
Bologna Startup vi invita ad una serata informativa nella quale avrai l'opportunità di incontrare professionisti italiani e americani, che spiegheranno le opportunità dell'internazionalizzazione, con particolare attenzione alla Florida e agli USA, come fare impresa negli USA e i rapporti con l'Italia.
Argomenti trattati:
Opportunità di avviare il tuo business negli USA
Opportunità di espandere il tuo business esistente negli USA
Potenzialità di apertura a nuovi mercati
Regole da seguire e le prassi per avere il massimo risultato
Vantaggi dell'internazionalizzazione
Le protezioni che il mercato americano può offrire
La gestione con L'Italia e le opportunità/problematiche
Evento gratuito, ma è richiesta la registrazione.
---
Relatori:
Ing. MARCO ANTEZZA
Ingegnere meccanico senior laureato all'Università di Bologna, con esperienza decennale nella gestione, pianificazione e creazione di start-up internazionali
Avv. (USA) MARC J. MILES (che terrà l'iintervento in lingua inglese)
Avvocato (FL USA),LLM (Tax) Villanova School of Law University, US. Esperienza ventennale nella creazione, nel supporto allo sviluppo e nell'ottimizzazione tributaria (base ed avanzata) delle aziende e start-up americane, operatività internazionale con Europa ed Asia.
Avv. DOMENICO MULTARI
Avvocato, LLM (Tax) Queen Mary University of London, Master in Diritto Tributario "A.Berliri"
Università di Bologna.Assiste le imprese, sin dalla fase di start-up, occupandosi di problematiche tributarie domestiche e transnazionali e dei processi di internazionalizzazione.
Organizzazione in collaborazione con
Ing. MBA FEDERICO STROLLO Management consulting e Bologna Start-up.
Consulente specializzato nella valutazione di aziende e nella redazione di business plan e piani finanziari per start up e new ventures, con un background nelle ricerche quantitative sullo sviluppo di nuovi prodotti e sales forecast.
---
AGENDA
17:45- 18.00 REGISTRAZIONE
I vantaggi del business in USA (nuova impresa o succursale)
Cenni su immigrazione e visti
Operatività Italia-USA (con particolare attenzione alla Florida): come realizzare un'impresa USA
Tipologie societarie USA
Tassazione USA con particolare attenzione alla Florida
Protezioni USA con particolare attenzione alla Florida
Convenzione Italia-USA per evitare doppie imposizioni
Tassazione Italia
Potenziali problematiche
Q&A
20.00 TERMINE dei lavori, a seguire networking dinner